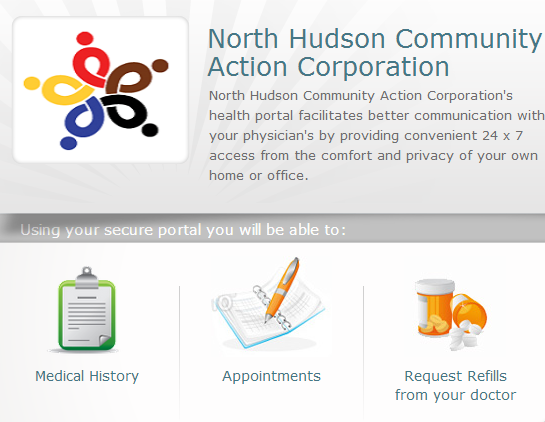 North Hudson Community Action Corporation patients now have the ability to make doctor's appointments, order prescription refills, and get test results via its website at www.NHCAC.org.
Called a "patient portal," the service allows patients to create individual passwords linked to their electronic medical records. Patients can request an appointment with a specific provider and request a specific date and time. If the requested time slot is open, they'll get an instant confirmation. Otherwise, an operator will call to suggest alternatives. Patients will also receive an electronic reminder the day before the appointment.
Joseph M. Muniz, chair of the North Hudson Community Action Corporation Board of Trustees, said 3,538 patients have signed up for the service so far and 318 have actually used it. He noted new and returning patients can also make appointments and request prescription refills by dialing 201 210-0200, the NHCAC 24-hour call center, but the internet is easier and faster.
"The newest, most exciting part of the service is the patient's ability to get test results without waiting for the next visit," said Joan Quigley, President and CEO of NHCAC.
"We all know how hard it is to wait for a phone call or another appointment to find out the results of a health test. Time crawls when you're worried," she said.
When test results are normal – or "unremarkable" as physicians say — they'll be available to patients as soon as they are returned from the lab and reviewed by a doctor. Whenever results are significantly abnormal, patients will be called by a nurse or doctor to discuss the findings and what they mean.
At any time enrolled patients will be able to access their medical records electronically, noting dates of immunizations, for instance, and checking on medications.
Muniz added that patients who have signed up will also get notices of new services offered by the health centers. Soon they will also receive information about new programs, such as job placement, housing assistance, and immigration services, provided by other agencies within NHCAC.
North Hudson Community Action Corporation has more Federally Qualified Health Centers than any similar organization in New Jersey with locations in Jersey City, Hoboken, Union City, North Bergen, Hackensack, Garfield, Englewood, and Passaic. They plan to open a 12th health center in Harrison later this year. The health centers average more than a quarter million patient visits each year, with the biggest number going to the largest health center in West New York.