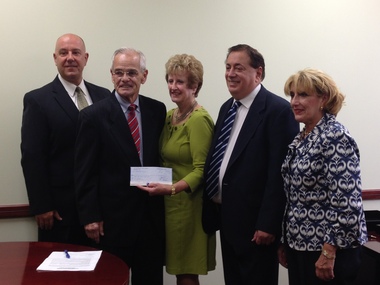 Representatives from Oritani Bank present a $10K check to the North Hudson Community Action Corp. to help house the victims of the tragic fire in North Bergen last weekend. Oct. 7, 2013. (Aiyana Cronk/The Jersey Journal)Aiyana Cronk/The Jersey Journal
More than 100 tenants' lives were upended after a  5-alarm blaze destroyed a five-story apartment building in North Bergen Sept. 28, and federal funds to pay for housing the victims ran out after five days.
But today Oritani Bank's charitable foundation stepped in and donated $10,000 to the North Hudson Community Action Corp. to help house, feed, and care for the 60 families devastated by the inferno at 92nd Street and Kennedy Boulevard.
Oritani Bank is located in Washington Township in Bergen County, and has three locations in Hudson County.
"We have helped many causes in the past, but when the bank heard of the crisis in North Bergen, there was no option but to act," said Kevin Lynch, President and CEO of Oritani Bank. "This is the least we could do."
The money will likely be able to house the families until the end of the week as realtors aid them in searching for a new home.
"This is an absolute gift from heaven," said Joan Quigley, president and CEO of NHCAC. "This was keeping all of us here up at night.
"We didn't think that we were going to be able to continue helping the families."
North Bergen Mayor Nicholas Sacco was grateful and thankful for the donation.
"It's been very difficult because of the number of families," Sacco said. "There wasn't much we could do, but this grant gives us a little bit of breathing space to help these people out."
The building was ordered to be demolished by the city, but the owner has stated that he wants to rehabilitate it instead, according to Sacco.
Officials have been unable to determine the cause of the fire due to the damage to the structure, but arson has been ruled out.
"I think that rehabilitating the building will be far more beneficial for the residents than tearing it down and starting anew," Sacco said. "These families would be able to return to a rent-controlled home rather than being unsure of what would go up in the building's place."
Sacco said that the building owner and city engineers are still working toward a final decision on the building.
Other organizations in North Bergen have contributed to helping the families affected, with Palisadium Real Estate working for free to find apartments for those displaced.